Capital Industries, Inc. Presents A Quick Guide to Concrete Patch Projects – How to Extend the Life of Concrete Surfaces
The condition of concrete floors in industrial warehouse and cold storage facilities is an essential element in team productivity.  Therefore, extending the life of concrete surfaces is imperative for all types of organizations.  Maintaining the integrity of concrete flooring within the modern industrial space cannot be underestimated. Companies must ensure their flooring areas are even, to prevent trips and falls and to ensure their work teams are able to complete their work effectively. In this article, the team at Capital Industries, Inc. presents a quick guide to extending the life of concrete surfaces through the use of concrete patching compounds and performing concrete patch work.
Repair Cracks Quickly
Cracks in a concrete surface are a very common problem. These cracks must be repaired at the earliest possible time to minimize the potential for lasting damage to the concrete floor. One option for concrete crack repair is our KWIK-FLEX. KWIK-FLEX is a quick setting, low temperature concrete crack repair product. One advantage of the KWIK-FLEX is that it can applied in coolers and freezers without the need for heat lamps or propane torches, providing work teams with full application flexibility for fast concrete patch work. KWIK-FLEX provides a high strength, lasting seal within just 60 minutes after application.
Commit to Concrete Coatings
The sealing of concrete floors should also be considered. When selecting concrete sealing products to use on a floor, it's important to consider the requirements within the environment. For example, many industrial organizations require concrete sealing systems that make the floor space easier to wash. Many also require a concrete sealing product that is designed for chemical resistance with their working materials, to mitigate safety issues. One of the leading concrete sealing products is REPOX-HB. REPOX-HB is designed to form a permanent bond to concrete and offers a smooth, chemically resistant surface that provides performance with ease-of-cleaning. REPOX-HB is also skid-proof and waterproof, providing exceptional value within warehousing spaces and other industrial settings.
Remove Grime to Protect Coating
One of the leading challenges many industrial businesses face when trying to maintain the life of their concrete surfaces is the build-up of dirt and grime. Some contaminants can settle on the concrete floor and erode the surface over time, potentially damaging the concrete floor in the future. To ensure long-term performance of their flooring systems, companies must commit to effective cleaning using the latest grease removal products. One option is CITRA CRYSTALS, which are designed to emulsify grease build up and grime to ensure dirt can be quickly removed.
Through a commitment to long-term repair and maintenance excellence, industrial companies can ensure their concrete floors retain optimal performance over many years. To learn more, contact the team at Capital Industries, Inc. today at (631) 298-6300 or visit www.kwikbond.com.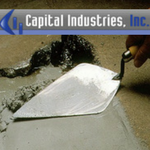 Capital Industries, Inc. is a leading supplier of commercial and industrial concrete repair products. For over 30 years, we have proudly serviced contractors, factories, warehouses and distribution centers for industrial, institutional and commercial customers. We carry a full range of concrete repair materials, including those specifically designed for low temperature areas such as freezers and coolers. Our floor repair products are rapid hardening, allowing you to reopen repaired areas with minimal downtime. All of our products are designed to be used by in-house maintenance personnel and come with an ironclad 100% guarantee of satisfaction.