Commercial Concrete Repair Products Expert Discusses Concrete Resurfacing
Mattituck, NY – December 30, 2015 – The team at Capital Industries Inc. have provided quality concrete repair products for companies conducting concrete resurfacing services for many years. If your plant engineers and maintenance staff want to improve the quality of the concrete surface under their watch, Capital Industries Inc. strongly recommends this beneficial procedure.
One of the biggest benefits of concrete resurfacing is that it is much more cost-effective than completely removing old concrete. Resurfacing is a great option for those that want to invest in a concrete crack repair procedure that will upgrade the aesthetic appeal of their concrete while at the same time minimizing long-term maintenance costs.
When conducting concrete resurfacing, there are many different surfaces, textures and colors that can be used, depending on your vision. Our staff at Capital Industries Inc. can help you choose the best materials and tools for your project and help you ensure that the final product is exactly what you want it to be.
For those interested in investing in concrete repair materials that meet or exceed industry standards, the staff at Capital Industries Inc. are friendly, knowledgeable and committed to ensuring that you obtain the materials that you need for a price that you can afford. For more information or further questions, give them a call at (631) 298-6300.
About Capital Industries Inc.
For over 30 years, Capital Industries Inc. has been providing concrete repair tools and materials to factories, warehouses, contractors and various distribution centers with their quality service. With reliable staff and a wide range of products, you can trust that they will help you get your property back into peak shape. For more information, visit http://www.kwikbond.com/.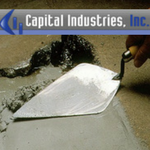 Capital Industries, Inc. is a leading supplier of commercial and industrial concrete repair products. For over 30 years, we have proudly serviced contractors, factories, warehouses and distribution centers for industrial, institutional and commercial customers. We carry a full range of concrete repair materials, including those specifically designed for low temperature areas such as freezers and coolers. Our floor repair products are rapid hardening, allowing you to reopen repaired areas with minimal downtime. All of our products are designed to be used by in-house maintenance personnel and come with an ironclad 100% guarantee of satisfaction.