Concrete Repair Tips for Floors
Concrete repair does not have to be a tough process.  With the right advice and quality products, your work can last a long time. The experts at Capital Industries understands the tools, products and procedures that can get you the best results and have listed some tips below to ensure that the job gets done in a way that it lasts well into the future.
Determine the Scope
The first thing to do when getting started on your concrete crack repair is to determine the scope of the problem. Look for problems, such as the following:
Expansion and contraction cracks
Cracks or spalls
Exposed aggregate
Damage that occurred before curing
Once you determine the exact problems with your concrete, you can decide on a proper solution and begin choosing the best materials for the job.
Measurements
Once you've located the area that needs to be repaired, get a ruler or measuring tape and obtain the length and width – this includes depressions, ridges, bumps and any other kinds of problems. Some problems, such as shallow irregularities in the surface of your concrete, can be fixed with a skim coat of one of our resurfacing products instead of going through the trouble to replace the concrete.
Surface Preparation
Clean: Remove any dirt, grease, oil, wax or previous coatings to ensure proper adhesion.
Sound: Remove any loose bits of concrete by chipping, chiseling or blowing anything "hanging by a thread" to get down to a solid surface.
Dry: Allow area to dry before applying concrete repair materials.
Patching
A bull-nosed pointing tool is highly recommended to scoop your repair material onto the patch area. Make sure to work the mixture into the space very forcefully to ensure that any air bubbles are forced out and the seal is proper. Use a trowel to level out the area and ensure a smooth, flat surface.
---
At Capital Industries Inc., we offer a wide range of materials for concrete repair jobs of all kinds, big or small. If you're unsure of the best materials to use for your job, our team can help you decide on the ones best suited for your particular needs. For more information, give us a call at (631) 298-6300 and we'll be happy to answer any questions that you may have.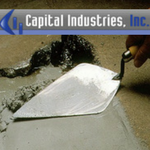 Capital Industries, Inc. is a leading supplier of commercial and industrial concrete repair products. For over 30 years, we have proudly serviced contractors, factories, warehouses and distribution centers for industrial, institutional and commercial customers. We carry a full range of concrete repair materials, including those specifically designed for low temperature areas such as freezers and coolers. Our floor repair products are rapid hardening, allowing you to reopen repaired areas with minimal downtime. All of our products are designed to be used by in-house maintenance personnel and come with an ironclad 100% guarantee of satisfaction.