Industrial Concrete Floor Repair – Crack & Spall Repair Material
KWIK-CRETE is a very rapid setting, advanced urethane formulated, high industrial strength, ultra low viscosity concrete crack repair and concrete floor repair material. KWIK-CRETE is a two part, 1:1 mix ratio by volume, 100% solids system. It is 100% solvent free and VOC free. KWIK-CRETE is designed to repair spalled concrete floors, surfaces and cracks, and to rebuild damaged control joints effectively and quickly.
Contact us at 631-298-6300 for help choosing the right repair product for your application.
Uses
| | |
| --- | --- |
| • Rebuild control joints | • Repair shallow spalls on concrete bridge decks |
| • Traffic area spalls & crack repairs | • Repair uneven concrete slabs |
| • Concrete floor repair | • Concrete crack repair |
| • Fill voids under concrete and tile | |
| | |
Advantages
| | |
| --- | --- |
| • Cures from -35° F to 130° F | • Fork lift traffic ready in 8 to 12 minutes |
| • Produces high strength quickly | • Self-leveling |
| • Self priming | • Meets USDA and FDA requirements |
| • Fast setting | • Minimal odor, 100% solvent free |
| • Custom colors available | |
| | |
Color
Concrete gray. Custom colors are available upon request.
Packaging
KWIK-CRETE is packaged in 22 oz. cartridges, 2 gallon and 10 gallon kits.
| | |
| --- | --- |
| PRODUCT STORAGE: | Store product in an area so as to bring the material to normal room temperature before using. Continuous storage should be above 55°F to prevent product crystallization. |
| | |
| SURFACE PREPARATION: | All dirt, oil, dust, foreign contaminants and laitance must be removed to assure a trouble free bond to the substrate. For repair of spalled concrete, a stiff wire brush can be used to remove all loose concrete. After wire brushing the spalled area, remove all loose dust and debris with an industrial vacuum. |
| | |
| PRIMER: | The material is self-priming. It is beneficial to discard a portion at the beginning to avoid unmixed material being used. |
| | |
| PRODUCT MIXING: | The product is mixed as it spirals its way through the static mixing tip. |
Product Application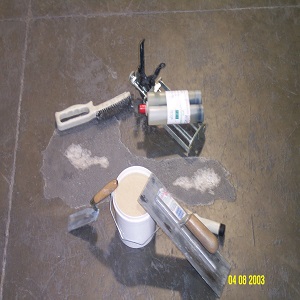 Assemble tube set, nozzle, end cap, flow control valve, and applicator tool as well as wire brush, trowel and aggregate sand.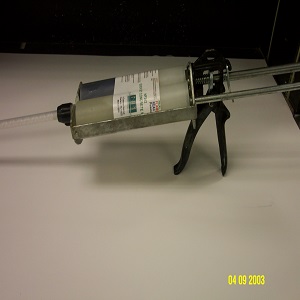 To assemble, hold tubes with tip facing upward. First, remove protective cap from tube set. Next, remove the two end caps from each tube. Place the control valve onto the end of the tube and place the static mix nozzle over the tube set ends. Finally, slip the screw collar over the tip and tighten on the tube set and then place the tube set into the tube applicator.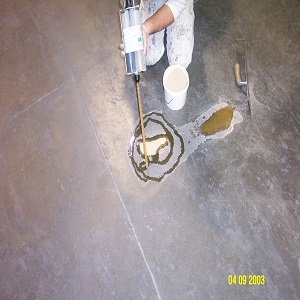 Apply a thin layer of the mixed liquids from the cartridge set onto the concrete. For larger areas, it may be beneficial to use a small brush to spread the liquids to evenly cover the repair area.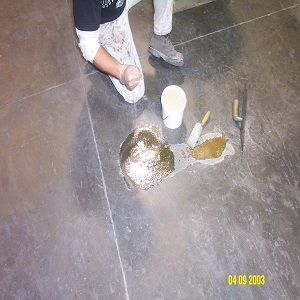 Sprinkle dry sand onto the repair area until the level of sand fills the hole and levels the repair area until level with rest of the floor surface.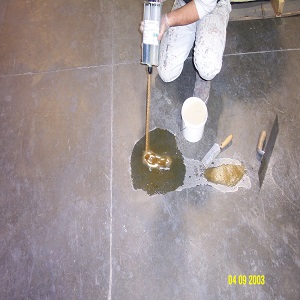 Then saturate the sand with the liquid. Reapply more sand and liquid as needed until the area is built up level to floor.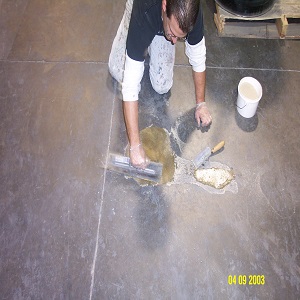 Finally, trowel the concrete floor to smooth out the area and remove any excess material. Allow the material to cure for ten to twenty minutes before foot traffic. Immediately after you are through using the liquids from the tube set, remove the static nozzle and place the end caps back on each tube as this will allow the use of the tubes for later repairs. For heavy equipment such as fork trucks, allow the material to cure for a half hour to an hour before using area that has been patched.