When Should Epoxy Be Used for Industrial Concrete Floor Repair?

Concrete is one of the most solid industrial floor surfaces. It is able to handle spills, abrasion and pressure. One problem with concrete is that when it needs to be repaired, it can be expensive. Removing and replacing entire concrete slabs is not easy.
An easier way to handle concrete cracks is to use epoxy and other repair materials. Concrete, like any substance, will expand and contract with temperature, moisture or pressure changes. Therefore, any epoxy repair must be able to compress and expand without losing its sealing properties.
When Should Epoxy Be Applied to Concrete?
Anytime a crack, chip, or spall is visible in your concrete slab is an ideal time to repair it with epoxy. The concrete must be cleaned of debris through power washing, vacuuming and removed prior to applying the epoxy.
Traditional concrete and masonry patching keeps the epoxy sealant in the crack. An epoxy sealant can be used on top of sand, which should stop about 3/4″ from the top of the industrial concrete floor surface.
Tips to Follow During Curing
Industrial concrete floor repair may include a backer rod to keep the sealant in the joint during curing. You should keep all traffic off repaired area until epoxy cures. Typically, access can be re-opened to heavy traffic within 24 hours.
We also offer rapid repair solutions, if required. Reopen the area in as little as 10 – 15 minutes if you absolutely need no down time in traffic.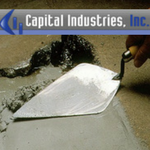 Capital Industries, Inc. is a leading supplier of commercial and industrial concrete repair products. For over 30 years, we have proudly serviced contractors, factories, warehouses and distribution centers for industrial, institutional and commercial customers. We carry a full range of concrete repair materials, including those specifically designed for low temperature areas such as freezers and coolers. Our floor repair products are rapid hardening, allowing you to reopen repaired areas with minimal downtime. All of our products are designed to be used by in-house maintenance personnel and come with an ironclad 100% guarantee of satisfaction.