What Causes Concrete Scaling and How to Prevent It?
Concrete scaling is a significant issue that property owners often face with industrial concrete flooring. It is a common issue that can lead to a loss of surface mortar on a concrete floor.
As the leading provider of industrial concrete floor coatings, our team at Capital Industries wants to help you figure out what you can do when concrete scaling occurs. Our information includes using the best concrete floor sealer to address the issue.
What Is Meant By the Term Scaling?
Concrete scaling refers to the peeling/flaking of a concrete surface that has hardened. Scaling is generally the result of significant exposure to freezing and thawing cycles. When scaling occurs, it leads to parts of the surface beginning to chip or flake away. This leads to the exposure of the coarse particles of aggregate that lie below.
What Causes Scaling of Concrete Surfaces
The primary cause of concrete scaling is when the surface is exposed to freezing conditions that then thaw while deicing salts or moisture. These concrete surfaces will be susceptible to scaling issues.
What to Do About Scaling?
The best thing to do is prevent scaling before it happens, but you can address it once it has occurred. Fixing scaling requires a high-quality mix of concrete, strengthening fibers, and an integral/topical sealer.
How to Prevent Scaling
Tips to prevent concrete scaling include:
The use of air-entrained concrete
Do not engage in any finishing operations when there is water on the surface
Utilize a liquid membrane curing compound to cure the surface
Provide surface protection from harsh winter conditions
Avoid the use of deicing salts on new concrete surfaces or recently replaced ones
Steps to Repairing Scaled Surfaces
Using a bonded base surface is essential to repairing scaled surfaces. A surface must be dirt, paint, and oil-free before repair commences. Remove all unsound material through the use of a jackhammer, chisel, and hammer. Once you prepare a clean, textured, rough surface, it is ready for resurfacing products such as concrete floor sealer.
We Offer the Best Industrial Floor Repair Products on the Market
Contact the team at Capital Industries today to find out more about purchasing the best industrial concrete floor coatings on the market. You can reach us at (631) 298-6300. Reach out to our sales team today to find out more.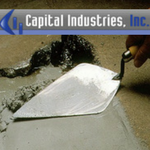 Capital Industries, Inc. is a leading supplier of commercial and industrial concrete repair products. For over 30 years, we have proudly serviced contractors, factories, warehouses and distribution centers for industrial, institutional and commercial customers. We carry a full range of concrete repair materials, including those specifically designed for low temperature areas such as freezers and coolers. Our floor repair products are rapid hardening, allowing you to reopen repaired areas with minimal downtime. All of our products are designed to be used by in-house maintenance personnel and come with an ironclad 100% guarantee of satisfaction.