The Top 2 Ways to Maintain Industrial Concrete Floors
Concrete is replacing traditional flooring materials such as tile, linoleum, marble, and granite due to its performance and affordability. There are many stylish and functionally desirable concrete types that you can choose from for your residential or commercial projects. These types include, but not limited to:
Plain concrete
Polished concrete
Stained concrete
Concrete flooring can be highly durable if installed correctly or repaired right on time. It has an average strength of about 3000 psi, which means having the ability to hold more than a ton of materials. Concrete flooring is a viable choice for warehouses, processing plants, and other industrial buildings. However, when the concrete structure gets compromised, not repairing it on time can cost you time and lots of money.
1. Sealing the Concrete
When it comes to maintenance, no flooring type can provide peace of mind like concrete flooring. A simple sealer can prolong its life beyond the manufacturer's warranty. Just keep in mind your budget, lifestyle, preference, and material durability in making the right sealer choice.
There are many sealer types to choose from – acrylics, polyurethanes, silicones, epoxies, and other types. Cleaning concrete floors is easy as well. Use a microfiber cloth with a ph-neutral floor cleaner and avoid chemicals that would change the concrete's color or design.
2. Repairing the Surface and Beyond
Although concrete flooring is known for its rigidity, sometimes, air or water may seep into it, causing small holes in the outer area. You can smooth out these voids or bug-holes by using commercial concrete products from KwikBond.
Cracked concrete due to settling, forklift, or heavy traffic in industrial warehouses or plants can pose a significant issue if not fixed immediately. Concrete crack fillers from KwikBond can help fill these patches and prevent further cracking. Pitted concrete, on the other hand, requires a meticulous fixing process. Experts suggest you skim coating such holes and polishing the surface to make it even.
Concrete erosion and spalling are some of the other issues that concrete flooring might face. Concrete spalling is the result of watered-down concrete during the initial pouring of the concrete. Spalling may weaken the slab over time, making it hard to fix. If neglected, it can cause structural problems and a significant amount of money in repairs. Industrial concrete floor repair products can quickly resolve the issues. Another issue facing concrete flooring is spalled or damaged joint repair. Choosing the right concrete joint filler is the key to improving concrete joints.
Find out how Kwik-Bond concrete repair products can repair your industrial concrete floor. Call Capital Industries at 631-298-6300.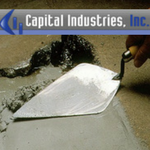 Capital Industries, Inc. is a leading supplier of commercial and industrial concrete repair products. For over 30 years, we have proudly serviced contractors, factories, warehouses and distribution centers for industrial, institutional and commercial customers. We carry a full range of concrete repair materials, including those specifically designed for low temperature areas such as freezers and coolers. Our floor repair products are rapid hardening, allowing you to reopen repaired areas with minimal downtime. All of our products are designed to be used by in-house maintenance personnel and come with an ironclad 100% guarantee of satisfaction.