The Benefits of a Durable Epoxy Floor Coating for All Seasons
Within the average commercial property, business owners must consider how their flooring systems will stand up to potential temperature changes during the change in seasons. From the heat of summertime to the depths of winter, flooring systems experience various stresses and strains.  Therefore, it is important to select the ideal product for optimal performance throughout the entire year. In this latest article, the team at Capital Industries, Inc. highlights the benefits of durable epoxy floor coating systems throughout the seasons.
Summer
In the summertime, it's important to have coating products that can resist heat, particularly in warmer climates. Many flooring products experience peeling and chipping when temperatures rise along with the humidity. But epoxy systems are designed to provide optimal heat resistance, assuring long-term durability in a range of business applications. It's the reason many property owners use epoxy floor coating products in their commercial garage spaces, to ensure the ideal surface for working on vehicles during those warm summer months.
Fall
When the temperatures begin to cool and rain becomes more prevalent, facility owners require a flooring system designed to restrict the damage of moisture. Epoxy flooring is the ideal system in this regard as it offers a non-skid surface for working areas. This is crucial in an industrial space, as it allows teams to complete activities such as woodworking and metalworking processes without placing themselves in danger of slipping due to moisture on the floor surface.
Winter
The freezing temperatures throughout the winter can often lead to flooring systems cracking. This cracking not only limits the aesthetic value of businesses but also impacts the structural integrity of property. While wood, metal and other flooring systems might suffer this type of cracking over time, epoxy floor coating products are designed to withstand the freezing temperatures through the winter. Epoxy floors are also shock resistant. For example, a repair shop bringing a vehicle inside a garage for the winter won't experience the same level of chipping and cracking in its floor that affects other surfaces.
Spring
The spring thaw can cause water to enter a facility and impact flooring throughout the property. But the water resistant quality of epoxy flooring means that it can protect against potential water damage. Epoxy coatings are designed to protect the concrete floor underneath from incurring damage and spreading water throughout the business space. It's the type of assurance all property owners require in protecting their businesses over the long-term.
Epoxy coatings are being used to assure safe, effective flooring performance throughout the year. To discover more on the latest epoxy flooring systems available on the marketplace, speak with the team at Capital Industries, Inc. today at 631-298-6300 or visit their business website at www.kwikbond.com.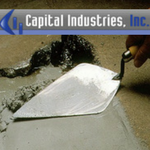 Capital Industries, Inc. is a leading supplier of commercial and industrial concrete repair products. For over 30 years, we have proudly serviced contractors, factories, warehouses and distribution centers for industrial, institutional and commercial customers. We carry a full range of concrete repair materials, including those specifically designed for low temperature areas such as freezers and coolers. Our floor repair products are rapid hardening, allowing you to reopen repaired areas with minimal downtime. All of our products are designed to be used by in-house maintenance personnel and come with an ironclad 100% guarantee of satisfaction.