What to Use to Repair Concrete Cracks in Industrial Buildings?
Concrete Cracks in an Industrial Building: How to Repair Them
Fixing your industrial building's concrete cracks is an essential aspect of maintenance and repairs. Find out some of the best concrete repair products to use for industrial buildings.
Dormant Cracks
When a crack is dormant, there are usually steel reinforcements underneath. These reinforcements won't keep concrete from cracking but will prevent the crack from getting too large. These types of cracks are easily fixable. They need filling with cement or epoxy.
What Fixing a Crack Will Do?
When a concrete crack has gotten filled and fixed, these items will be the results.
The concrete's strength will improve.
Excess liquids won't be able to leach into the concrete.
Durability gets improved.
Corrosion will get prevented.
The floor will be safer to walk on.
Your flooring will look new and pretty.
All concrete cracks. It's just the nature of concrete. Taking care of your concrete is easy and, when promptly done, will ensure that the cracks won't grow bigger. Though repairing the cracks should get done by professionals. They can figure out if the cracks are going to cause problems in the foundation. They can also warranty their work.
What is KWIK-BOND?
KWIK-BOND gets made for fixing concrete cracks. It's a mixture that's made from a 100% resin polyester compound. It'll cure hard while not becoming brittle and won't have any noticeable shrinking. This product isn't sensitive to moisture or temperature. Meaning it can get applied if the concrete is damp or even in a cold freezer. This product has gotten USDA approved for meat and poultry plants that get federally inspected.
If you need a product that'll fix your cracked concrete, contact KwikBond. Call us for help selecting the right industrial concrete crack repair product at 631-298-6300.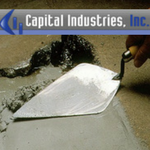 Capital Industries, Inc. is a leading supplier of commercial and industrial concrete repair products. For over 30 years, we have proudly serviced contractors, factories, warehouses and distribution centers for industrial, institutional and commercial customers. We carry a full range of concrete repair materials, including those specifically designed for low temperature areas such as freezers and coolers. Our floor repair products are rapid hardening, allowing you to reopen repaired areas with minimal downtime. All of our products are designed to be used by in-house maintenance personnel and come with an ironclad 100% guarantee of satisfaction.