5 Reasons to Repair Concrete Cracks in Warehouse Facilities
Despite the inherent strength of concrete, it's still at risk of developing cracks over time. A concrete crack requires repair using effective sealing materials and the latest repair tools. However, many warehouse property owners forgo this form of concrete crack repair. In this article, the team at Capital Industries, Inc. highlights five reasons to repair concrete areas within a warehouse space.

1. Security Against Potential Liability
Business owners that discover a crack in the concrete floor of their warehouse buildings must take the repair work seriously. That's because they are liable for any injuries suffered as a result of someone tripping on the crack. If a person trips and injures themselves, they may be able to take the business owner to court to pay for damage. A simple concrete crack repair can ensure that the problem is resolved.
2. Safety within the Warehouse Environment
It's important for commercial property owners to protect their staff against structural dangers within their warehouse buildings. A crack within a concrete wall or floor could weaken the structure, potentially presenting a danger to employees and visitors within the building. By taking on concrete crack repair work proactively, they can ensure that both employees and visitors remain safe in the company's business space.
3. Maintaining Property Value
Cracked and broken concrete areas can significantly devalue a warehouse property. Property owners looking to sell their buildings in the near future to move to a larger property should consider the impact that concrete cracks have on their property's long-term value. The cost to repair the concrete area is likely to ensure a lasting return on investment when placing the building on the real estate market in the future.
4. Safeguarding Employee Health
The latest data shows that cracked concrete floors and walls can allow potentially hazardous chemicals to enter warehouse buildings. These chemicals can impact staff and potentially cause an unsafe working environment. This means it's important to have all concrete cracks repaired expertly to ensure the commercial building is sealed against potential contaminants.
5. The Problem Will Get Worse Over Time
The fact is that concrete cracks don't repair themselves. They don't go away with time. Building owners will find that the longer provigil they leave the problem alone, the larger the repair project will be when they tackle the problem. Through proactivity and by working with us, warehouse property owners can reduce their repair costs and achieve the ideal solution to their concrete issues.
The team at Capital Industries, Inc. has over 30 years experience in the concrete repair marketplace. They also offer one of the widest ranges of concrete crack repair solutions on the market today. To learn more, contact their office team directly at 631-298-6300 or visit their business website at www.kwikbond.com.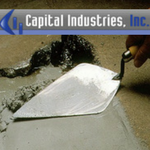 Capital Industries, Inc. is a leading supplier of commercial and industrial concrete repair products. For over 30 years, we have proudly serviced contractors, factories, warehouses and distribution centers for industrial, institutional and commercial customers. We carry a full range of concrete repair materials, including those specifically designed for low temperature areas such as freezers and coolers. Our floor repair products are rapid hardening, allowing you to reopen repaired areas with minimal downtime. All of our products are designed to be used by in-house maintenance personnel and come with an ironclad 100% guarantee of satisfaction.