Need Freezer Floor Repair? Get It Fixed Fast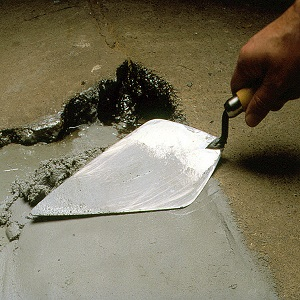 In our modern industry, refrigeration is an important element that protects a large variety of products from being lost through improper storage. Large freezers and refrigerated warehouses must be maintained in good repair to retain proper temperatures for preserving food. Over time the use of large, heavy equipment combined with subfreezing temperatures can take a toll on the concrete floor of these facilities.
Applying Materials in Freezing Temperatures
Over time, the floor of an establishment often becomes more damaged, finally reaching a state of disrepair so severe that it can no longer be used.
The increased energy cost, due to refrigeration, can be significant also. Repairing the floor within a commercial or industrial building is a unique challenge. At low temperatures, the majority of concrete repair materials become nearly unusable and take an extended duration of time to set and cure entirely.
In addition, most epoxies cannot be utilized at temperatures below freezing. Polyurethanes used for road repair have been applied at temperatures as low as minus 20 degrees, however, present a difficult task with application and adhesion.
Frost often infiltrates the inside walls of the cracked concrete, creating a barrier and preventing nearly all repair materials from properly bonding to the concrete itself.
Sub-zero Challenges
Properly mixing repair materials, such as mortar or epoxy, in cold conditions is difficult to say the least. Trying to mix these materials in freezing temperatures causes the mix to become hard and unworkable, leaving it basically useless.
Cold temperatures considerably delay curing times with many materials. Some products that have a one-hour cure time at normal temperatures can go as long as twelve hours or more in a cold atmosphere, and some will never cure completely.
Commercial Freezer Types
Capital Industries is composed of experts in freezer floor repair. The continued freezing and defrosting places a high demand upon the concrete of freezer floors, leading to their eventual destruction. The floors of IQF, tunnel, spiral and blast freezers are particularly susceptible to damage.
The expert creators of KWIK-CRETE are fully trained technicians with the skill and experience for correctly diagnosing and repairing these problems with all types of freezer floor damage. They have the training and experience for quickly getting everything up and running again.
KWIK-CRETE sets within 8-12 minutes and is able to cure from  -35° F to 130° F. Contacting one of our agents for a fast assessment and repair product can prevent a disaster before it happens.
Our Experts Will Have Your Freezer Floor Diagnosed and Operational Quickly!
Our special expansion repair material is formulated for superior application and strength in low temperatures. KWIK-FLEX cures completely within an hour leaving the repair area extremely durable. KWIK-FLEX requires no heating methods during application and is workable at temperatures up to minus 60 degrees. It can also be applied to slip joints and used as a material for filling cracks in other areas of the freezer.
For information on obtaining superior freezer concrete floor repair products, contact one of our agents today!
Advantages of Using Our Products:
•  Clean and neat floors meeting FSIS and USDA guidelines
•  Prevents damage to forklifts and other equipment
•  Less damage to stored products
•  Prevention of workers comp claims from bodily injury and accidents
•  Less floor cleaning and maintenance time
Holes, or large missing pieces of concrete, not only create a dangerous situation, but also cause unsanitary conditions. Concerning freezer concrete floor repair, getting these problems quickly repaired and back in safe operational condition is a tremendous advantage with substantial financial savings.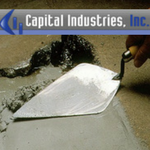 Capital Industries, Inc. is a leading supplier of commercial and industrial concrete repair products. For over 30 years, we have proudly serviced contractors, factories, warehouses and distribution centers for industrial, institutional and commercial customers. We carry a full range of concrete repair materials, including those specifically designed for low temperature areas such as freezers and coolers. Our floor repair products are rapid hardening, allowing you to reopen repaired areas with minimal downtime. All of our products are designed to be used by in-house maintenance personnel and come with an ironclad 100% guarantee of satisfaction.