Learn about Concrete Patch Products from Capital Industries
Mattituck, NY-based Capital Industries, Inc., leading distributors of concrete repair products, have announced they're now offering several concrete patch products for freezer/cooler flooring repair applications. Suitable for low-temperature environments, products such as KWIK-FLEX ensure quick-set performance for effective repair of concrete cracks and expansion joints.
By repairing their concrete with the most effective patch products, cold storage facilities can ensure their business operates at peak performance throughout the year.  Even the smallest crack in concrete floors needs to be addressed and removed to maximize the value of the work space. Teams can now complete fast, effective repairs within their facilities by integrating the latest patch products from Capital Industries, Inc.
Capital Industries, Inc. has become a leader within the concrete repair industry by offering a wide selection of repair products at affordable pricing. The company's latest solutions are designed for the swift repair of cracks and joint issues within freezer and cooler spaces. One option is KWIK-FLEX, which cures to a high strength and resilient seal in just 60 minutes, without the need for heat lamps or additional repair accessories. The product remains serviceable at -60F and has a shelf life of 9-12 months to assure companies a quick response to emergency crack repair needs in the coming year.
It's the full suite of concrete patch products expected of a market leader. To learn more about Capital Industries, Inc. and their product line, please contact their office team at (631) 298-6300 or visit their website at www.kwikbond.com.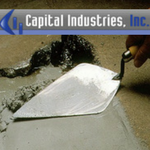 Capital Industries, Inc. is a leading supplier of commercial and industrial concrete repair products. For over 30 years, we have proudly serviced contractors, factories, warehouses and distribution centers for industrial, institutional and commercial customers. We carry a full range of concrete repair materials, including those specifically designed for low temperature areas such as freezers and coolers. Our floor repair products are rapid hardening, allowing you to reopen repaired areas with minimal downtime. All of our products are designed to be used by in-house maintenance personnel and come with an ironclad 100% guarantee of satisfaction.