Capital Industries, Inc. Offers Leading Concrete Patch Solutions for Surface Renovations
Mattituck, NY-based specialists for high performance concrete repair products, Capital Industries, Inc. offers a full range of solutions for concrete patch projects. Included within the company's complete line of products is KWIK-CRETE, which is a uniquely designed concrete patching compound that is a high strength, ultra-low viscosity material for the repair of concrete cracks and concrete floor damage for industrial, commercial and institutional environments.
For facilities throughout the marketplace, a safe flooring system is critical to ongoing operations. This means companies must act quickly and use high performance concrete patch products when cracks appear in concrete flooring spaces.   Capital Industries is an established leader with concrete repair products, and now invites companies to review their full suite of concrete patch solutions.
Capital Industries, Inc. takes great care in researching and formulating their products to assure optimal performance over the long-term. KWIK-CRETE is designed to seamlessly fill cracks in concrete, repair uneven concrete slabs, and help assure safe and effective repair of concrete floors. A leading benefit of KWIK-CRETE is that it forms a high strength bond quickly, thereby dramatically reducing downtime and the impact the repair work has on the company's productivity.
It's an ideal repair solution for a wide range of concrete patching repair jobs! To learn more about the full suite of products available through Capital Industries, Inc., please contact their office team at (631) 298-6300 or visit their business website at www.kwikbond.com.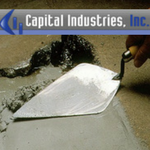 Capital Industries, Inc. is a leading supplier of commercial and industrial concrete repair products. For over 30 years, we have proudly serviced contractors, factories, warehouses and distribution centers for industrial, institutional and commercial customers. We carry a full range of concrete repair materials, including those specifically designed for low temperature areas such as freezers and coolers. Our floor repair products are rapid hardening, allowing you to reopen repaired areas with minimal downtime. All of our products are designed to be used by in-house maintenance personnel and come with an ironclad 100% guarantee of satisfaction.