Is Concrete Crack Repair Really Necessary?
Although concrete cracks are nothing unusual, that doesn't mean that they should be ignored as they can lead to more extensive problems if left unattended for long periods of time. At Capital Industries Inc., we have supplied concrete crack repair products for plant engineers and maintenance staff at businesses around the world and know how important this process can be.
Importance of Crack Repair
If you're preparing to do concrete crack repair in your facility and need a reliable source of products, we have everything that you could possibly need. Most concrete cracks are the result of thermal movement, drying shrinkage and industrial/commercial traffic. Even minor cracks, if left unattended, can turn into major repairs in the future.
Crack Repair Process
Despite the simplicity of the crack repair procedure, it's still a good idea to go over it before you jump into anything. Knowing the ins and outs of each step and the necessary materials to conduct them is something that will ensure you get the most out of the materials that you purchase.
Repair Material
The specific type of concrete repair material that you use to fill your cracks depends on the characteristics of the job, such as surface thickness and crack width. Choosing the right material such as epoxy, urethane or polyurea, is important to ensure that your repairs last.
Surface Preparation
Surface preparation is a very important step to ensuring long life of your repair. Areas to be repaired should be clean, sound and dry.
Crack Filling
There are a wide range of materials that can be used to fill cracks in concrete. The experts at Capital Industries Inc., with over 30 years in the concrete repair products business, will recommend the right solution for any of your concrete repair needs.
---
At Capital Industries Inc., our team can provide you with the materials needed to perform concrete crack repair at a high quality level. Each of our products are designed for professional use and meet or exceed current industry standards to ensure that you choose materials that match the quality of the work that you will put in. If you're unsure of the materials that you should use for you project, give us a call at (631) 298-6300 and we can help you select the best product for your job.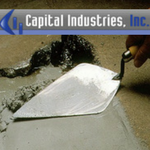 Capital Industries, Inc. is a leading supplier of commercial and industrial concrete repair products. For over 30 years, we have proudly serviced contractors, factories, warehouses and distribution centers for industrial, institutional and commercial customers. We carry a full range of concrete repair materials, including those specifically designed for low temperature areas such as freezers and coolers. Our floor repair products are rapid hardening, allowing you to reopen repaired areas with minimal downtime. All of our products are designed to be used by in-house maintenance personnel and come with an ironclad 100% guarantee of satisfaction.