Industrial Concrete Maintenance Made Easy
The Many Uses of Epoxy Adhesive
Commonly used as an anchor for rebar, railings, bolts or even dowels, epoxy adhesive produces a strong bond that won't let go. Epoxy is mixed according to how it will be used. In a milder form it makes an excellent protective coating on large machine parts, including airplanes. If this material can be trusted in the sky it can certainly be trusted with any project on the ground.
Repairs Made Easy
Use of epoxy for any type of concrete repair is a common solution. Professional engineers and masons trust it for anything from filling in cracks on floor areas to repair of cracks in walls for the maintenance of structural integrity. The adhesive's thickness is usually measured against the size of the damage you are trying to repair.
No Need For Hard To Maintain Cement Grout
Not only is cement grout not waterproof, it's famous for collecting stains that are difficult if not impossible to remove. Epoxy is an excellent alternative to cement grout that works just as well, if not better because being 100% waterproof, it doesn't absorb liquids that make stains to begin with.
Cracked Concrete Can Be Saved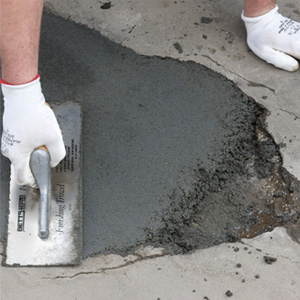 Cracked concrete doesn't have to become a loss if it's treated with an epoxy adhesive in time. Of the many concrete floor repair products available in today's market, combining hardener and resin to create epoxy has the most success. It can be made weak for lesser jobs or as strong as you need it to be by using more or less of its two ingredients.
Also Helpful In Removing Old Concrete Work
Obviously, using Epoxy to remove old concrete is much safer than explosives. One reason it works so well in sealing cracks is it expands as it dries. By drilling deep holes into the cement, you need to remove, as the glue dries it will expand and cause stress cracks deep within which makes the concrete easier to remove.
Too Many Choices?
Whatever the project may be, using a product like Repox-Mix helps take the guesswork out and put the strength in.
As long as the surface is solid, this amazing product bonds strongly to either concrete, wood, metal, brick, etc. It is USDA approved for use in food processing plants and is very easy to use even under the most extreme circumstances or conditions.
Remember, until it dries adhesive epoxy is very pliable and this makes it invaluable for repairs where a little "creativity" may be required.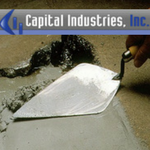 Capital Industries, Inc. is a leading supplier of commercial and industrial concrete repair products. For over 30 years, we have proudly serviced contractors, factories, warehouses and distribution centers for industrial, institutional and commercial customers. We carry a full range of concrete repair materials, including those specifically designed for low temperature areas such as freezers and coolers. Our floor repair products are rapid hardening, allowing you to reopen repaired areas with minimal downtime. All of our products are designed to be used by in-house maintenance personnel and come with an ironclad 100% guarantee of satisfaction.