5 Things You Need to Repair Concrete Driveways
Routine Maintenance and Repair Can Help Keep Your Driveway In Great Shape
Concrete is known for being a highly durable substance and why it is so heavily utilized in many constructions. One of the typical applications of concrete is in the surfacing of driveways. The fact is that concrete is a durable substance, and concrete driveways require routine maintenance and repair in order to keep them in top-level condition. The good news is that there are some great concrete driveway repair products on the market that can help homeowners to maintain their driveways and have them looking great.
1. Notice Any Cracking That Is Present
It is important to always be aware of the development of cracks in a concrete driveway. These can often time be repaired by being filled with flexible caulk. Sometimes, it is better off to simply replace that part of the driveway if the cracks are larger.
2. The Importance of Expansion Joints
These are critical in order to allow concrete to be able to compress and expand depending on the season.
3. Leveling Matters
When sections of concrete sink or heave due to weather conditions, it is important to repair them and level them. This has the benefit of preventing future cracking.
4. Patching of Concrete Surfaces
Though it might be a short-term solution, patching a concrete driveway's holes will go a long way toward extending its life.
5. When to Restore The Surface
Weather conditions and the presence of water can cause the surface of a concrete driveway to peel away. When this occurs, it may be necessary to think about resurfacing.
FP-300 is one of these outstanding concrete driveway repair products that homeowners can use for effective repair. It is a compound of high strength that is perfect to use when a driveway's concrete surface needs to be leveled or patched.
Call Capital Industries at 631-298-6300 to speak our experienced driveway repair product experts. We will help you select the right product for your application.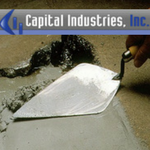 Capital Industries, Inc. is a leading supplier of commercial and industrial concrete repair products. For over 30 years, we have proudly serviced contractors, factories, warehouses and distribution centers for industrial, institutional and commercial customers. We carry a full range of concrete repair materials, including those specifically designed for low temperature areas such as freezers and coolers. Our floor repair products are rapid hardening, allowing you to reopen repaired areas with minimal downtime. All of our products are designed to be used by in-house maintenance personnel and come with an ironclad 100% guarantee of satisfaction.