CONCRETE SEALER – Capital Industries Highlights 5 Benefits of REPORE
By choosing an industry recommended concrete sealer, businesses can enhance the safety of their concrete floors and ensure optimal concrete flooring performance for many years to come. In order to find the ideal product for use in their buildings, companies must review the market carefully. One of the industry's leading concrete floor repair specialists, Capital Industries is pleased to highlight the benefits of their REPORE concrete sealer product.
Strong Impact Resistance
REPORE offers strong impact resistance for use within areas where heavy equipment is in operation. The product's impact resistance also means that it is ideal for warehouses and businesses where there is vehicular traffic from forklifts and pallet jacks. Due to its exceptional impact resistant qualities, it can help concrete flooring to retain its peak performance over many years.
High Gloss
REPORE is ideal, as it provides a clear coating and sealer that cures to a very high gloss finish.
Abrasion Resistance
Concrete floors will be impacted by abrasion over time. Continual foot traffic and the rigors of heavy equipment like forklifts and pallet jacks on a concrete floor can cause it to chip away and become damaged. REPORE's reputation as a market-leading concrete sealer is highlighted by its high level abrasion resistance. When maintained properly, the product is resistant to all forms of abrasion in an industrial space.
Ease of Maintenance
A big asset in any industrial environment is a product that can be maintained seamlessly by in-house staff.  Because of the product's dust proof performance, REPORE offers the simplicity of maintenance few other products can provide. It's a product that maintenance departments don't have to spend hours maintaining and cleaning, which improves productivity.
Mar Resistance
When inviting potential clients to their industrial facilities, companies must ensure their flooring areas retain peak aesthetic appeal. The mar resistant quality of REPORE assures companies that their flooring system will retain maximum aesthetic value over many years. Because the product is crafted with a high gloss level, it will retain its like-new quality.
REPORE is a popular concrete sealer for a wide range of industrial, commercial and institutional spaces. To learn more about REPORE and its performance advantages, speak with the team at Capital Industries, Inc. directly at 631-298-6300 or visit their website at www.kwikbond.com.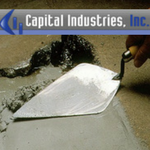 Capital Industries, Inc. is a leading supplier of commercial and industrial concrete repair products. For over 30 years, we have proudly serviced contractors, factories, warehouses and distribution centers for industrial, institutional and commercial customers. We carry a full range of concrete repair materials, including those specifically designed for low temperature areas such as freezers and coolers. Our floor repair products are rapid hardening, allowing you to reopen repaired areas with minimal downtime. All of our products are designed to be used by in-house maintenance personnel and come with an ironclad 100% guarantee of satisfaction.