Concrete Repair Experts Capital Industries, Inc. Update Company Website
Mattituck, NY-based specialists for concrete repair solutions, Capital Industries, Inc. have recently announced they've updated their company website. The new company website provides visitors with comprehensive information on the company product line as well as a new blog that will highlight the latest trends and tips from within the concrete repair marketplace.
Contractors, warehouse operators and factory owners require comprehensive information on the latest concrete repair products to be used within their line of work. They must be able to work with a specialist that is at the forefront of the industry.  It's the reason that so many firms now entrust their concrete repair guidance to Capital Industries, Inc., a firm with over 30 years of experience in concrete repair. The company is now further enhancing their brand by offering an updated website for clients to use in their search for the latest concrete repair product information.
The new Capital Industries, Inc. website provides a full suite of information on the usage, benefits and application of company products such as KWIK-BOND and KWIK-CRETE. The company's highly qualified team will also provide the latest information on the concrete repair marketplace through their blog. It's an updated site that is positioned to become a leading class repository for concrete repair industry information.
To discover more on the Capital Industries, Inc. website or learn about the company's latest products, please contact their team at 631-298-6300 or visit their new website at www.kwikbond.com.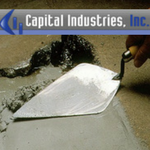 Capital Industries, Inc. is a leading supplier of commercial and industrial concrete repair products. For over 30 years, we have proudly serviced contractors, factories, warehouses and distribution centers for industrial, institutional and commercial customers. We carry a full range of concrete repair materials, including those specifically designed for low temperature areas such as freezers and coolers. Our floor repair products are rapid hardening, allowing you to reopen repaired areas with minimal downtime. All of our products are designed to be used by in-house maintenance personnel and come with an ironclad 100% guarantee of satisfaction.