Capital Industries Inc. Now Offering a Concrete Sealer- REPORE
Cutchogue, NY-based concrete floor repair specialists Capital Industries, Inc. have just announced they're now offering the concrete sealer REPORE.  It is a single component moisture cured urethane clear coating and sealer designed to offer industrial settings exceptional wear resistance over many years. It is positioned to be an excellent product addition to warehouses, office floors and many other areas within industrial facilities.
By adding the highest quality sealing products to their concrete flooring spaces, industrial organizations can not only enhance the safety of the space for their work teams but also enhance the durability of the flooring areas. This brings immense value to companies requiring constant access and optimal performance from their industrial flooring, and ensures they can maximize in-house productivity for years to come. Now, the team at Capital Industries, Inc. is inviting customers to review their concrete sealer REPORE.
REPORE is designed to assure high abrasion resistance in facilities where work teams will be using heavy equipment. It is ideal for warehousing areas, as it reduces floor chipping and other forms of material damage. The product builds a thick protective coating across the floor that works to preserve and dust proof the area for the company. This minimizes future maintenance for the concrete floor.
To discover more about the full range of benefits offered by REPORE, a concrete sealer, or other concrete floor and crack repair products, speak with the trusted concrete floor repair experts at Capital Industries, Inc. at 631-298-6300 or visit their website at www.kwikbond.com.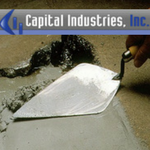 Capital Industries, Inc. is a leading supplier of commercial and industrial concrete repair products. For over 30 years, we have proudly serviced contractors, factories, warehouses and distribution centers for industrial, institutional and commercial customers. We carry a full range of concrete repair materials, including those specifically designed for low temperature areas such as freezers and coolers. Our floor repair products are rapid hardening, allowing you to reopen repaired areas with minimal downtime. All of our products are designed to be used by in-house maintenance personnel and come with an ironclad 100% guarantee of satisfaction.