Capital Industries, Inc. Highlights Leading Concrete Repair Products
Concrete repair experts must have access to proven effective products in their work. It's imperative that products used by repair professionals have been formulated by those with experience in the concrete maintenance industry. For this reason many are now turning to trusted product specialists such as Capital Industries, Inc. In this article, the Capital Industries, Inc. experts highlight three of the leading concrete repair products in the marketplace.
KWIK-BOND
KWIK-BOND has quickly become one of the leading concrete repair materials for a broad range of projects, including but not limited to repairs on frozen or low temperature surfaces such as freezers, holding boxes and coolers. The product is a premixed 100% solids polyester resin-based compound, which is designed to provide exceptional early strength within concrete repair projects. One of the leading performance advantages of KWIK-BOND is that it's moisture insensitive. This means it can be applied to damp surfaces for seamless repair efficiency. KWIK-BOND also features a range of leading performance qualities, including flexibility, corrosion resistance and abrasion resistance. In addition, when using KWIK-BOND in a low or cold temperature environment, KWIK-BOND will setup and cure without the need to raise temperatures or use heating lamps to accelerate the curing process. It's a product designed to help streamline the repairs and save repair teams money in the process.
KWIK-CRETE
KWIK-CRETE is a concrete repair material designed to help rebuild concrete joints and provide seamless performance for concrete floor repair work. The product can also be used to fill voids under concrete and tile areas, and repair uneven concrete slabs. A big advantage of KWIK-CRETE is that it's 100% solvent-free and VOC-free. In addition, the product is very rapid setting and repaired areas can be reopened to traffic in as little as 15 minutes. This means it can be used to complete structural repair work within a consolidated timeframe to help teams complete work under challenging deadlines.
REPOX-MIX
REPOX-MIX is a product designed to fill in holes, cracks and spalls. It is a 100% solids epoxy mortar mix.  A significant benefit of the product is that it cures hard, but not brittle, and yet is exceptionally strong. This product bonds to a wide range of substrates, including concrete, metal, wood and other hard surfaces. REPOX-MIX is also unique for its ability to bond to damp surfaces. This means that it can be used in areas that are difficult or impossible to dry. REPOX-MIX can also be used as an exceptionally strong grout for anchoring equipment, sign posts, and meters. It's the leading-class product for high level concrete repair performance.
These are just a few of the many concrete repair materials available – to learn more about your repair options, contact the team at Capital Industries, Inc. at 631-298-6300 or visit their business website at www.kwikbond.com.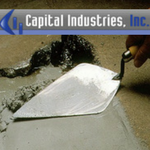 Capital Industries, Inc. is a leading supplier of commercial and industrial concrete repair products. For over 30 years, we have proudly serviced contractors, factories, warehouses and distribution centers for industrial, institutional and commercial customers. We carry a full range of concrete repair materials, including those specifically designed for low temperature areas such as freezers and coolers. Our floor repair products are rapid hardening, allowing you to reopen repaired areas with minimal downtime. All of our products are designed to be used by in-house maintenance personnel and come with an ironclad 100% guarantee of satisfaction.