What are the Benefits of Sealing Concrete?
What are the benefits of sealing concrete?
Are you considering sealing the floors in your business space?
Commercial floor concrete sealer is the best option for warehouses, production plants, and factories. Although concrete is quite durable for heavy-duty activities, it is prone to wear and tear due to daily use and exposure to harsh elements.
Not only does the sealer keep your property looking fresh, but it also acts as a protective layer against possible damage. The sealer prolongs the lifespan of the flooring.
While some states like Texas have regulations on certain types of coatings, sealing floors have various benefits.
The Benefits of Commercial Concrete Sealer
1. Floor Protection
Even with the durable nature of the concrete, sometimes the surfaces tend to crack and flake. A sealant layer cushions the floors from damage caused by overloading. More so, it offers protection against spillages like grease, chemicals, and oils. The cover prevents elements from seeping into the concrete and staining it. Are you aware that UV rays of the sun are also harmful to your bare floors? With sealants at hand, you won't be worried about such issues.
2. Prevents Molds
Since concrete usually absorbs moisture, there may be green discoloration if it fails to dry out. This state is a breeding ground for mildew and molds. By installing sealants on your floors, you eliminate any chance of mold growth.
3. Prolonged Life
The typical lifespan of a concrete floor ranges between 25 to 30 years. Without proper protection, you may have to replace it earlier than expected. Seal your concrete to extend its life and provide quality service. Since sealed surfaces leave no room for elements to soak into the concrete, it ensures that the flooring remains attractive and durable.
4. Ease of Cleaning
When it comes to sanitation, sealed surfaces are the best. Contaminants can't get deeply compared to porous floors. Sealants also prevent concrete discoloration, thereby preserving the original color.
5. Adding Value to Your Space
Flooring is a crucial factor in interior design. With a concrete sealer, you can increase your home's overall value, thanks to its aesthetic beauty.
Discover Which Concrete Floor Sealer You Need
Still not sure about the type of commercial floor concrete sealer you need? Contact KwikBond for additional information on the best concrete sealer for your needs. They have various types of concrete sealers suitable for various kinds of businesses. Not only are the sealers abrasion-resistant and durable, but they are also easy to install and maintain on surfaces.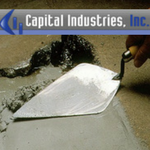 Capital Industries, Inc. is a leading supplier of commercial and industrial concrete repair products. For over 30 years, we have proudly serviced contractors, factories, warehouses and distribution centers for industrial, institutional and commercial customers. We carry a full range of concrete repair materials, including those specifically designed for low temperature areas such as freezers and coolers. Our floor repair products are rapid hardening, allowing you to reopen repaired areas with minimal downtime. All of our products are designed to be used by in-house maintenance personnel and come with an ironclad 100% guarantee of satisfaction.