A Guide to Choosing the Best Epoxy Floor Coating for Warehouse Space
Renovating an industrial facility provides businesses with a unique opportunity to integrate a range of features within their property. But the challenge for many is to select an epoxy floor coating that offers the level of performance and durability they expect over the long-term. The experts at Capital Industries, Inc. have many years of experience in the epoxy coating marketplace, and in this latest article they offer a quick guide to choosing the best epoxy floor coating for warehouse facilities across the country.
Water Based Epoxy
One of the first things to understand about water based epoxy is that it's easy to apply.  Whether a maintenance manager chooses to have their team apply the product or have the work done by professional installers, the application process can be completed quickly. A leading advantage over other epoxy products is that water based epoxy has a longer pot life, ensuring teams can take their time applying the product within a warehousing area. Waterborne epoxy is very inexpensive but does lack the resistance to stains and chemicals some may require for their floors.
High Solids Epoxy
High solids epoxies are designed to have a leading-class resistance to stains, chemicals and abrasions. This makes it ideal for property managers who store heavy tools and vehicles within their warehouse areas. The pot life for high solids epoxies is shorter than with water based products. Generally, installers must apply the product within 60 minutes of mixing. High solids epoxy products do offer a strong return on investment value and can be purchased at affordable pricing levels.
Clear Epoxy Top Coats
Clear epoxy top coats add durability and thickness to any warehouse flooring system and are designed to give floors a deep shine and gloss. Clear epoxy top coats not only protect the concrete surface but also acts as a sealer and a chemically resistant coating. This allows easier clean up of spills and will prevent concrete dusting.
Selecting a Supplier is a Critical Element in the Process
When choosing the ideal epoxy floor coating for their business, owners must also consider their choice of supplier carefully. There are a number of suppliers across the marketplace, and it's important to select a specialist with many years of proven experience in the industry. To discover more on how to choose the ideal epoxy flooring for industrial settings, contact the team at Capital Industries, Inc. today at 631-298-6300 or visit their business website at www.kwikbond.com.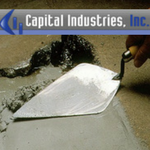 Capital Industries, Inc. is a leading supplier of commercial and industrial concrete repair products. For over 30 years, we have proudly serviced contractors, factories, warehouses and distribution centers for industrial, institutional and commercial customers. We carry a full range of concrete repair materials, including those specifically designed for low temperature areas such as freezers and coolers. Our floor repair products are rapid hardening, allowing you to reopen repaired areas with minimal downtime. All of our products are designed to be used by in-house maintenance personnel and come with an ironclad 100% guarantee of satisfaction.