3 Things to Consider when Selecting Concrete Patch Products
When a crack appears in a concrete floor, industrial organizations must be able to respond quickly to minimize the damage caused to their facility and to ensure their team is able to work safely. In order that facilities and maintenance management have an understanding of the factors differentiating concrete patch repair products, the specialists at Capital Industries, Inc. highlight three of the key elements to consider when buying concrete patch products.
1. Level of Skill Required to Use the Product
When completing concrete patch work, it's important that teams are able to complete the project efficiently. Some concrete patch solutions are challenging to use for those without experience. For example, the product might require the user to combine various materials and chemicals to create the final repair material. This can be a significant challenge for teams with limited concrete patch work experience and can often impact the result they achieve. For those who are beginners with the concrete repair process, it's important to buy products that are ready for use and can be added to the flooring in just a few easy steps. That's why Capital Industries products are all designed to be used by in house maintenance staff and are very easy to use.
2. Length of the Drying Process
Minimal downtime is vital to the day-to-day running of a facility. This means that companies must consider their choice of concrete patch products carefully when selecting a repair solution. The length of the drying process is a large consideration, as companies will require access to the flooring space within a short timeframe. A 24 to 48 hour drying time might impact the business's operations and prevent the business from using the floor safely during that time. Maintenance or facilities managers should speak directly to the concrete patch product supplier to determine the optimal drying time for their facility. Capital Industries specializes in concrete patch products that set up quickly thus avoiding costly downtime.
3. Patch Durability
Often, companies will complete a short-term patch on a concrete crack in order to make the floor safe for resuming operations. This can be completed to ensure that teams work safely while conducting their day to day operations. When analyzing various concrete patch products, companies should consider the durability of the product and the amount of time they require the patch to work effectively.  Speak with your product supplier directly to make sure that the product you've selected provides acceptable durability. All of Capital Industries concrete patch solutions are designed to be long lasting, permanent repairs.
The team at Capital Industries, Inc. offers a broad range of solutions to their client's concrete patch project needs. To learn more about their product line, contact their team today at (631) 298-6300 or visit their website at www.kwikbond.com.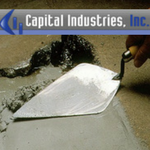 Capital Industries, Inc. is a leading supplier of commercial and industrial concrete repair products. For over 30 years, we have proudly serviced contractors, factories, warehouses and distribution centers for industrial, institutional and commercial customers. We carry a full range of concrete repair materials, including those specifically designed for low temperature areas such as freezers and coolers. Our floor repair products are rapid hardening, allowing you to reopen repaired areas with minimal downtime. All of our products are designed to be used by in-house maintenance personnel and come with an ironclad 100% guarantee of satisfaction.